Enjoy greater energy efficiency, noise reduction, and bright natural lighting with long-lasting fiberglass windows installed in your home in Bucks County, Montgomery County and the surrounding counties.
Contemporary, Stylish New Fiberglass Windows for Homeowners in Bucks County, Montgomery County and Surrounding Counties
Outdated, worn windows can really age your home, making it look lackluster. Additionally, old windows tend to be inefficient, drafty, and hard to operate—blocking refreshing natural light and fresh air from delivering the comfort you deserve. Fortunately, it's easy to transform your home with beautiful, durable fiberglass windows.
At Remodeling Concepts, we take pride in providing topnotch window replacements that give homeowners in the greater Bucks County and Montgomery County area confidence. We hold an unwavering commitment to reliable punctuality, streamlined efficiency, and clear communication at every step of your installation so you can relax and enjoy your new windows.
Fiberglass Windows Offer Many Advantages for PA and NJ Homeowners
It's no secret that our area of the country deals with snow and ice each winter, as well as rain and wind during spring and summer. So, it's important to choose windows that not only look good, but also perform well over the years. For that—fiberglass windows are undeniably the champion in premium style and lasting durability.
Impressive Strength
Fiberglass windows are eight times stronger than vinyl, giving you decades of trusted performance and peace of mind. Their frames don't rot, crack, or dramatically expand and contract due to changes in temperature. Instead, they remain snugly in place, resisting unwanted leaks, drafts, and warping.
Expansive Outdoor Views
Because fiberglass window frames are so strong, they can be made sleek and slim without compromising performance. This allows for larger glass panes, better views of your landscaping, and greater natural light coming into your home.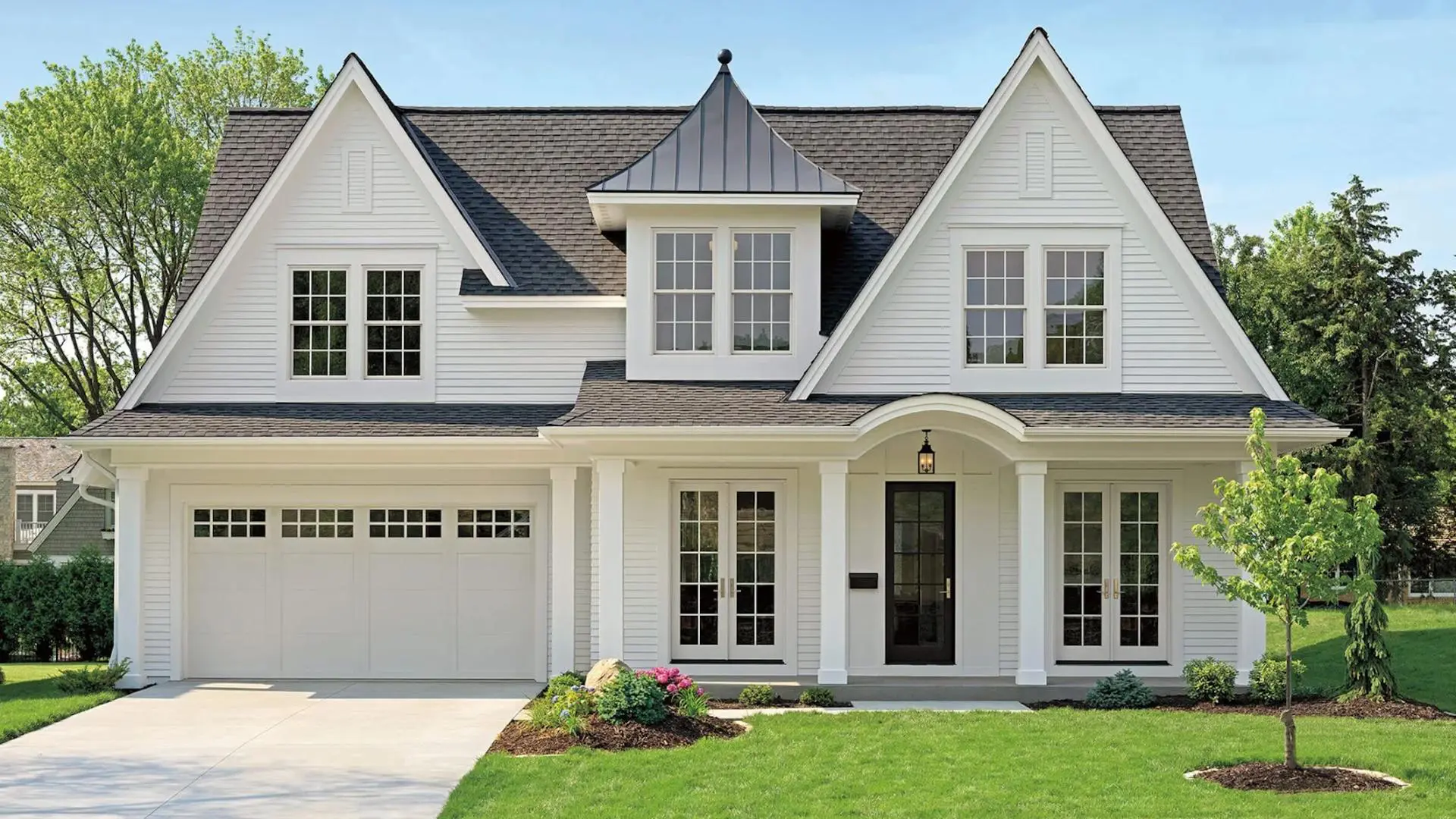 Eco-friendliness
Because fiberglass windows last for decades, they contribute less often to landfills, ensuring their environmental impact is lower than other materials.


Easy Upkeep
Unlike wood, fiberglass window frames are unappealing to termites and woodpeckers, so you won't have to deal with constant pest damage. Plus, fiberglass holds color well, putting an end to frequent painting. Simply rinse them with soap and water on occasion to remove dust and dirt.


Convenient, Secure Operation
Fiberglass window frames are simple and smooth to open, close and lock. Their tilt-in design makes them a breeze to clean from safely inside your home.
Trusted Performance from Beautiful Marvin Windows
As a Marvin Authorized Replacement Contractor, our team is trained and certified to do every installation down to the last detail, according to the manufacturer's stringent standards. You can rest assured your windows are installed right the first time, and your warranty is protected.
To give local homeowners in and around Bucks County and Montgomery County the protection and performance they need in our wet, cold winters, we install top-performing Marvin® windows. Marvin's trusted products are built to last, look attractive, and offer premium styles and fixtures for the ultimate in easy operation and charm.
"Fabulous is an understatement of the beautiful work and attention to detail that was put into my home. The workers were prompt, professional, and super clean. 100% recommend!!"

– AnnMarie L.
Why It's Worth Having Fiberglass Windows Installed by Remodeling Concepts
Choosing fiberglass replacement windows is a great way to update your home—but they're only as good as the team that does the installation. At Remodeling Concepts, we take pride in performing our remodeling work with precision and perfection, taking meticulous care of every detail and ensuring we leave your property thoroughly clean at the end of the day. 
From start to finish, we treat you and your home respectfully, just like we'd want ours treated. We work hard to ensure you're ecstatic about your new windows.
Enjoy Beautiful Views and Lasting Performance from New Fiberglass Windows
Enjoy a home that looks, feels, and functions exactly as you want it to, for years to come. Create a refreshing, bright interior with gorgeous, low-maintenance, long-lasting fiberglass replacement windows installed by our expert installation team at Remodeling Concepts.